---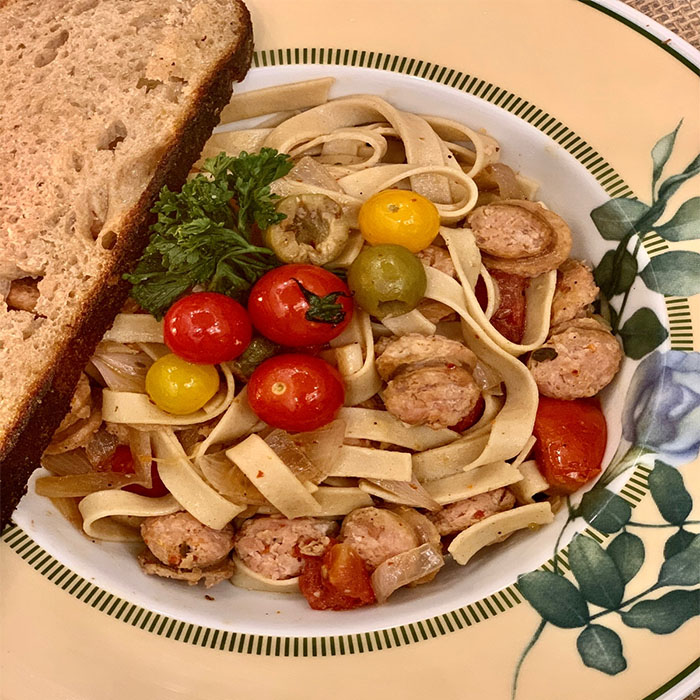 Preparation time : 25 min
Ingredients
1 pac Raw Plain Breakfast Chicken Sausage
1/3 pac Fettuccine Traditional Egg Pasta
3 cloves chopped Garlic
1 medium chopped Onion
8 Cherry Tomato Red
1 sprig Parsley
1 tablespoon Avocado Oil
Himalayan Organic Pink Salt to taste
Himalayan Parmesan to taste
Pepper to taste
Oregano to taste
Slice of Organic 100% Whole Wheat Sourdough
Chilli Flakes to taste
Touch of Red/ White Wine
Preparation
Boil the pasta with a pinch of salt and a drop of avocado oil.
Cook the thawed raw sausages gently, on low to medium heat on both sides for 10-12 minutes.
Slice and keep them aside.
In a separate pan, sauté the onions and garlic till soft.
Stir in the cherry tomatoes and sliced sausages. Sprinkle oregano and chilli flakes.
Deglaze with a touch of wine. Add salt and pepper.
Add the cooked pasta with a spoon of the water it was boiled in.
Plate and garnish with parsley and parmesan cheese. Serve with sourdough.
Products used in this recipe